Prices and Booking Information
The reservation system has 2 reservation portals. The 1st is for booking between September and June. The 2nd is for July & August. Please choose the correct portal when making your reservation. 

Minimum stay requirement:
July and August (3 options):
7 night stay / available from Sunday 2nd July and every

Sunday

thereafter
4 night stay / available from Sunday 2nd July and every

Sunday

thereafter
3 night stay / available from Thursday 29th June and every

Thursday

thereafter
September to June midweek and weekends: 2-night minimum stay. If 1-night required, rate for 2-night applies.
Bank Holiday Weekends: 3-night minimum stay
Easter, Christmas and New Year : 4-night minimum stay
Weddings: A minimum stay of 3 nights is required for weddings outside of High Season.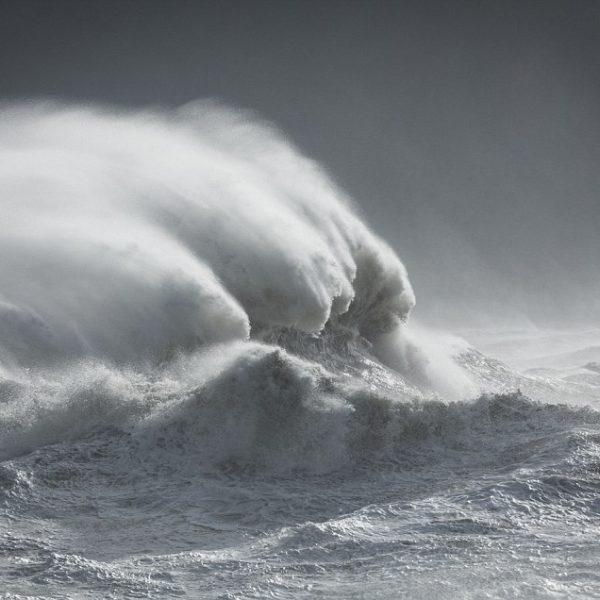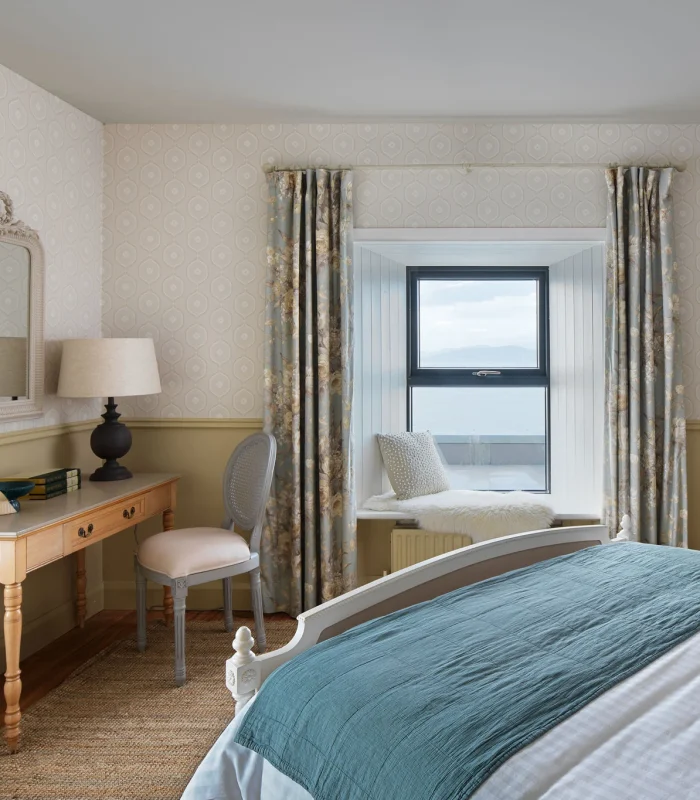 RENTAL RATES (includes up to 24 people)
Sunday to Thursday night: €1,100 per night
Friday & Saturday night: €1,500 per night

10% discount if you book 7 nights
Rates include
Full house including bar & entertainment space, all towels, linen, electric, fire wood etc. No hidden charges   
Cleaner for 2 hours per day for public spaces only 
Fresh Coffee brewed daily
Collection and drop off of luggage to the pier  

Deposit: 10% payable on reservation
Balance Payment: 12 weeks before booking date
Security Deposit: A €1,000 security deposit applies to all bookings. It is pre-authorised on arrival at the House on a credit card and is returned 48 hours after departure subject to no damage or extra cleaning required.
Cleaning fee: Every booking at the Bay View House incurs a  one off cleaning fee of €500.
OPTIONAL EXTRAS
On check out, through the reservation system, you have the option to add the following to your booking. The 10% deposit needed to secure your booking, is based on the rental period only, and not the additional items selected.
Full bar service per night, including provision of bar person and fully stocked bar with kegs, spirits etc. cleaning of bar space when finished – €150 (Contact us for beverage rates and options)
Chef per night, including provision of chef, and cleaning of commercial space – €150 (menu options provided at a later date / priced per person depending on choice of menu / example, Pizza Night €15 per person / Lobster Night €30 per person)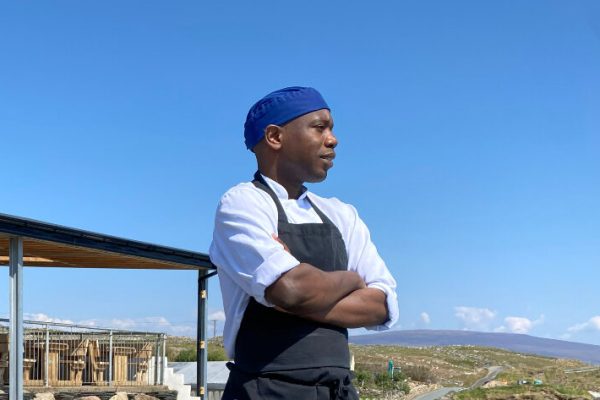 Clare Island Whiskey Tasting Event 
Set up at Bay View House, you hear the story of Clare Island Single Malt, Barrel Aged at Sea, how our bottle represents a past, present and future for our small community.
A tasting against another Single Malt with sea salt and seaweed chocolate pairing, learn the process of maturation and how ageing at sea has changed the result 
1h 30min / minimum 6 and maximum 24 persons / Contact us for pricing 
Sea Safari
Includes a sightseeing tour around Clare Island to view the incredible sea cliffs, the bird life including the Gannet Colony, hear stories of the Great War, hear about and see, Clare Island Salmon Farm, try your hand at fishing for Mackerel, all while enjoying a picnic lunch of locally sources produce such as Keem Bay Smoked & BBQ Salmon (Clare Island sourced), Macalla Farm greens (Clare Island) and Mescan Beer 
2 to 3 hours depending on weather / minimum 10 and maximum 24 persons / Contact us for pricing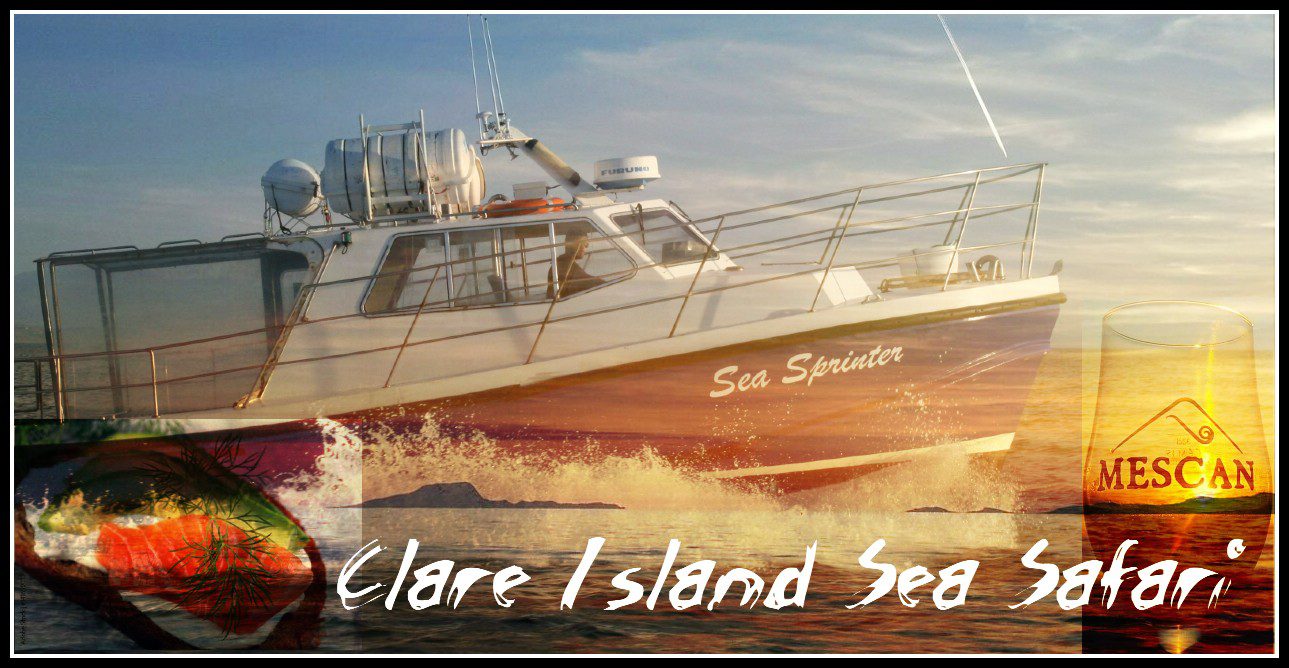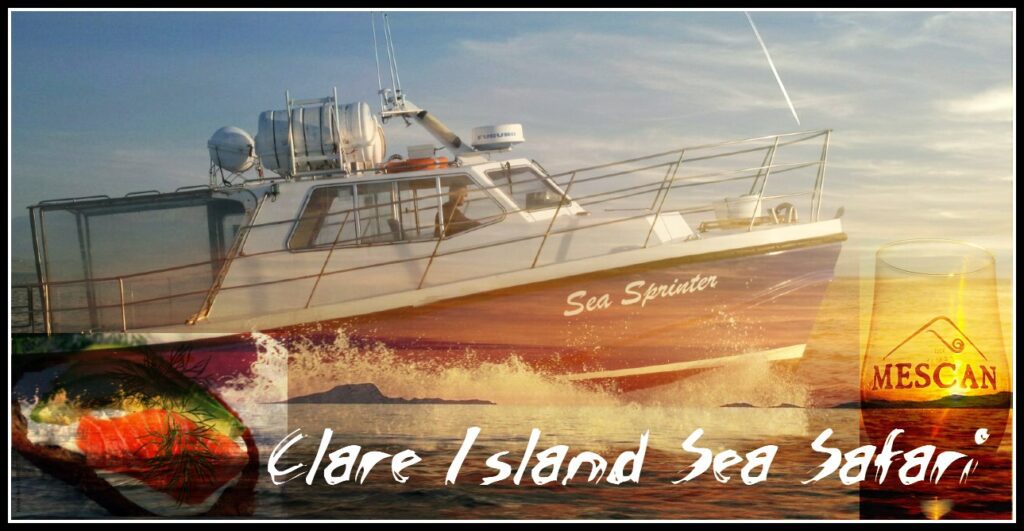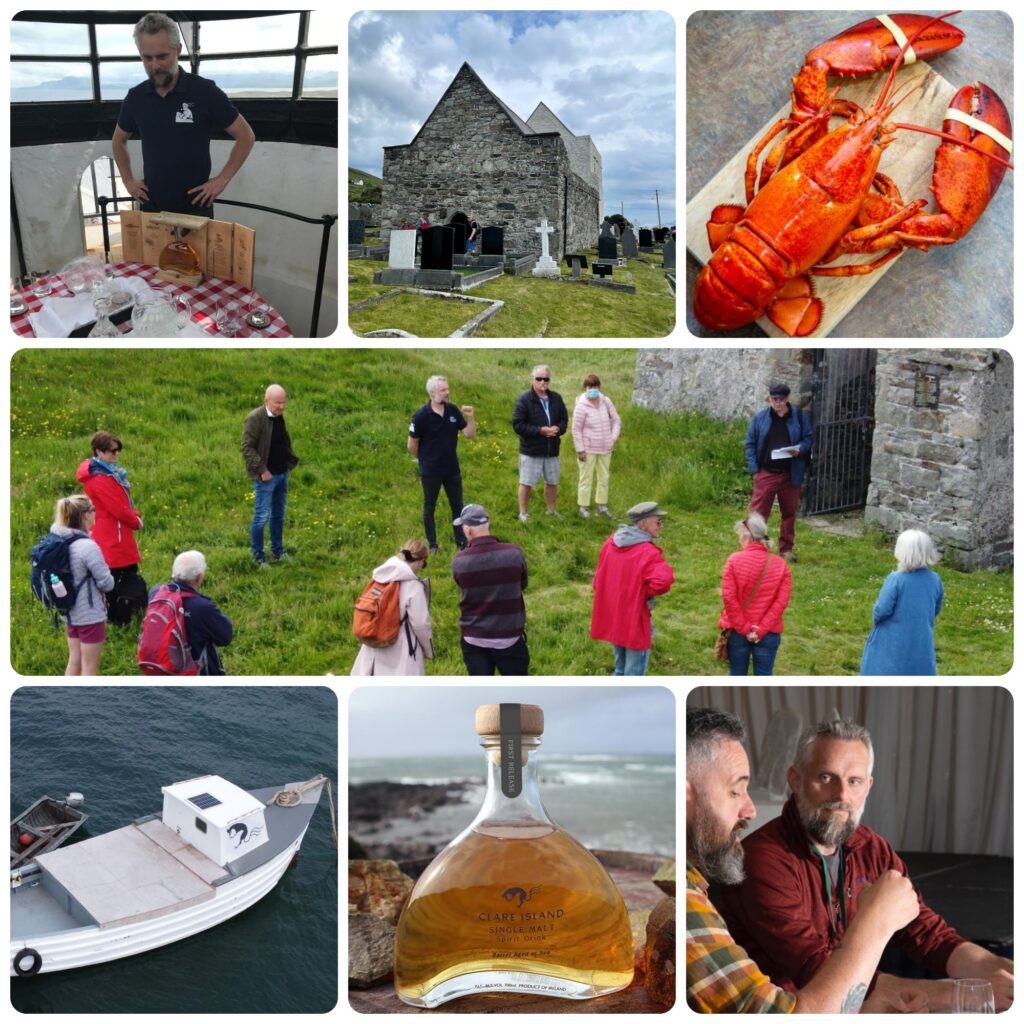 The Spirit of Clare Island Experience 
Private Island Tour with islander Carl O'Grady, founder of Clare Island Whiskey. 
Tea / fresh coffee and home made treats / fresh lobster Lunch with local Mescan Beer
Stories of Irish Mythology, Clare Island's place on the Marine Highway of the Wild Atlantic from pre industrial times, 
The Pirate Queen (Grace O'Malley), her castle, 12th Century Abbey with ceiling painting's which hold a SECRET CODE to be deciphered, stories of the Great War, the Lighthouse and Mega Cliffs,  the story of Clare Island Whiskey, tasting event, visit the Dolphin (maturation boat), taxi between Abbey, Lighthouse and the café
Option to buy a special limited bottle of 280 release 
Full day (11.am to 6.00pm) / minimum 6 and maximum 20 persons / Contact us for pricing